Boyd & Evans
Fionnuala Boyd and Les Evans (Boyd & Evans) have been working collaboratively since 1968. One of their most well-known pieces in Milton Keynes is Fiction, Non-fiction and Reference in the Central Library.
Long Strand, 1996, Oil on Canvas, Boyd and Evans
Boyd & Evans believe that the life of a painting depends on what the viewer brings to it and that words can 'damage' paintings.

They use photography as sketchbooks. Their images are composite, reformed from photographs, pictures or situations they have observed and documented, designed to both tell a story but to lead the viewer to create their own narrative.

More from Level 1
Office
Arts for Health Milton Keynes
Facilities Directorate
Milton Keynes Hospital
Standing Way
Eaglestone
Milton Keynes
MK6 5LD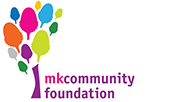 Arts for Health Milton Keynes is the working name of MK Arts for Health charity number 1107625 company number 0513769