Temporary Exhibitions - Upcoming
Discover our future exhibitions and events:
Arts for Health MK organise a programme of temporary exhibitions throughout Milton Keynes University Hospital, as well as
pop-up exhibitions and displays at locations across Milton Keynes. On this page you can f
ind out about all the exciting exhibitions and events we have planned, more details will be added as they become available.
Some dates may vary due to the current COVID-19 environment - please do not visit the hospital to view exhibitions and strictly adhere to current guidance. You can find about the artworks here and even explore our online exhibition.
Upcoming Exhibitions ︎︎︎
Jan Harrington
Dates TBC
An exhibition of framed artwork about line, made using line - or more specifically tape. The artist's practice is an interrogation of line, how it interacts with itself, the space it inhabits and, most importantly, the viewer.
Artists Website:
http://janharrington.net/
Image: Thick and Thin, tape on board, 61 x 91cm framed © Jan Harrington 2020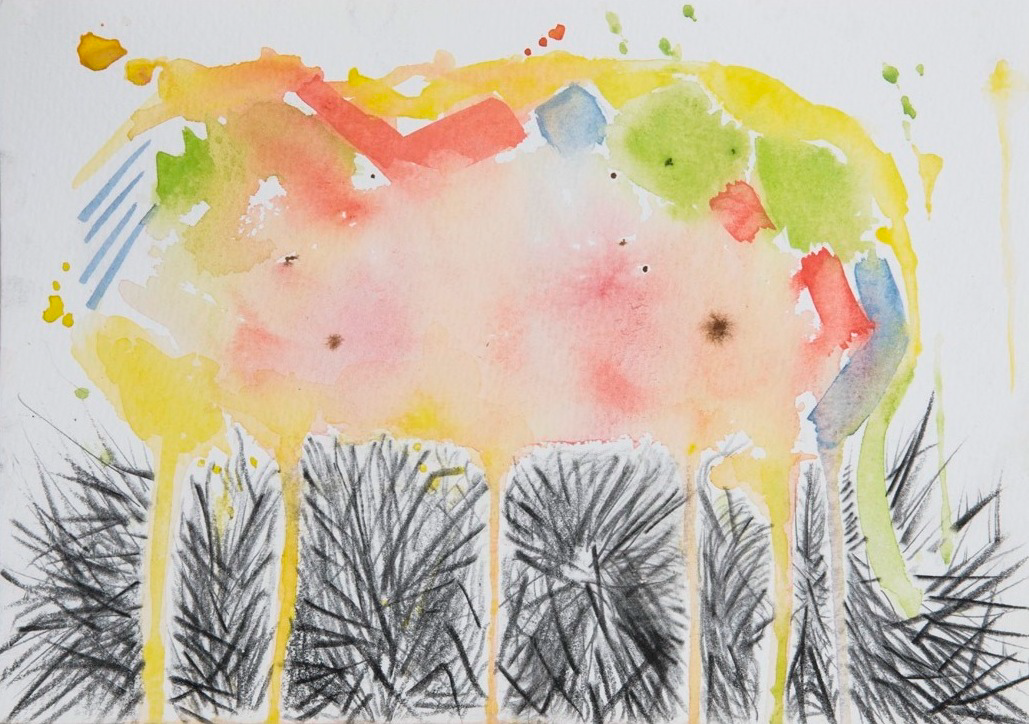 Naomi Kendrick
Dates TBC
Exhibition of mixed media drawings. The artist has previously used music and hypnosis to evoke and draw different mental states, or simply tuned in to and noticed the shape of her mind as it changes in response to the ebb and flow of life. Making visible sensations, patterns of thought and feeling, from the darkest times to the euphoric


Artists Website:
http://deadrabbit-ablog.blogspot.com
Image:
Untitled,
watercolour and pencil on paper ©Naomi Kendrick;
Jane Walker - Mixed Media Paintings
Dates TBC
Recycled paintings. Original paintings reduced to just their texture, a patchwork, or collage inspired by Hamburg city and Hubeau's trumpet sonata, composed in Paris in 1942, in which the piano sounds as if it is accompanying something completely different to the solo it is written to accompany.
Artists Website:
http://www.jane-walker.co.uk
Image: Hamburg series 1, (2020) 76x56cm ©Jane Walker
David H Jones
Dates TBC
The energising properties of colour is the motivation behind this exhibition of richly textured paintings produced by a prolonged process of repetitious mark making and overpainting. For the artist painting is almost a magical process of laying down coloured pigments to reflect light energy. Inspiration comes from nature's palette, with observations of colour contrasts as the seasons change.

Artists Website:
www.davidhjonespainter.com
Image:
Blue to Blue,
AcrylicOnBoard (2019),45x45cm
©
David H Jones,
Myla
Dates TBC
An exhibition of portraits using
monochromatic colour pallet, using charcoal and pencil.
Instagram: mylapaints
Image: Untitled, oil painting (2020) ©Myla Murray2020
Works for us: Confidence through Arts Group Exhibition
Dates TBC
Group exhibition of artwork created by The Confidence Through Art group, part of the Works for Us charity who support a diverse range of people with different needs, to help them get back into work or further education. Find out more about the organisation on www.worksforus.org.uk
Phoenix Rising MK
Dates TBC
Group exhibition of artwork created by the Phoenix Rising MK, the organisation provides creative & social opportunities for people with disabilities and support needs. Find out more about their artwork on:
https://sites.google.com/view/phoenixrisingmk/home
---
Discover our current and past exhibitions below ︎︎︎
---
Office
Arts for Health Milton Keynes
Facilities Directorate
Milton Keynes Hospital
Standing Way
Eaglestone
Milton Keynes
MK6 5LD