Temporary Exhibition - Previous
Joanne Underwood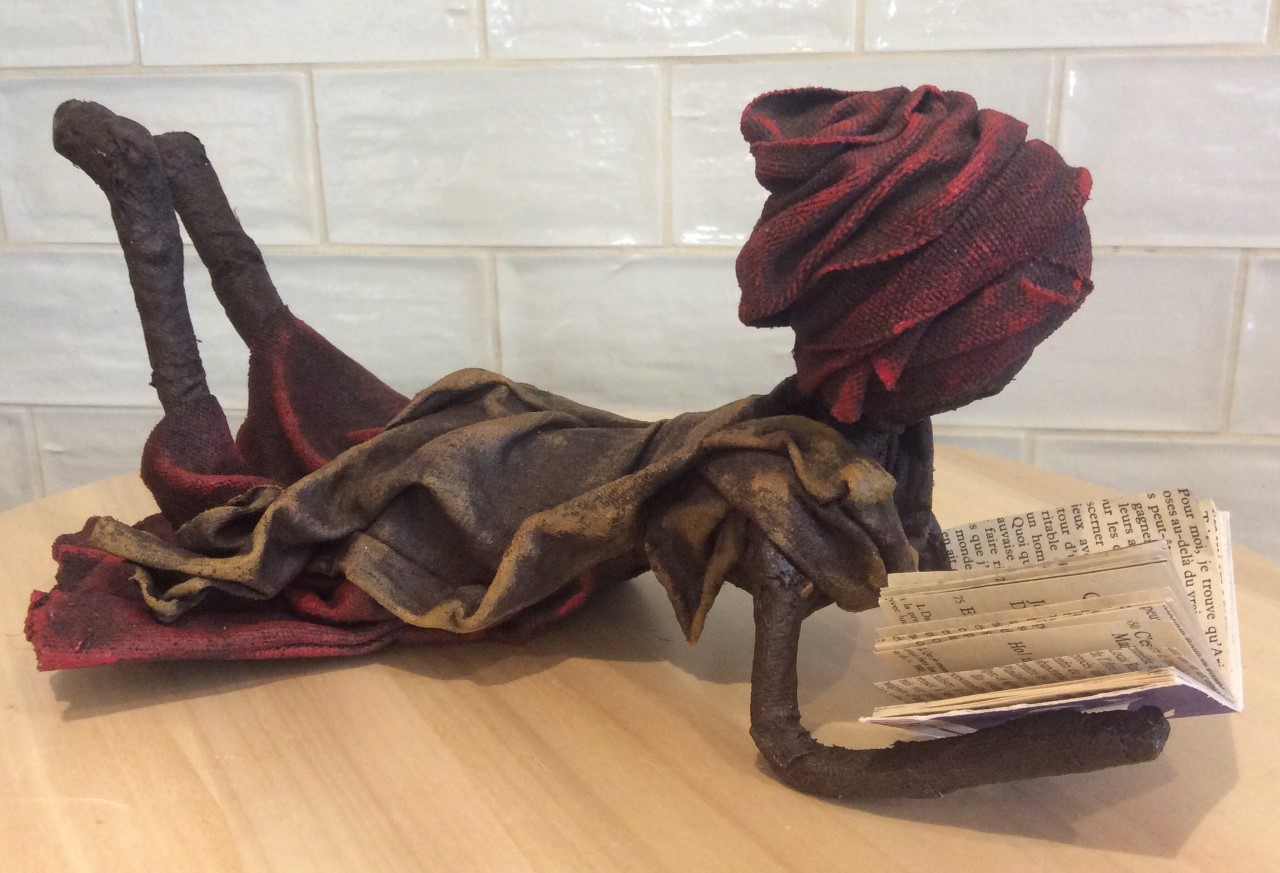 Girl with a Book Powetext and Mixedmedia, 13(h) x 21(w) x 28 (l) cm (NFS)
With the current lockdown restrictions faced across society, many artists are finding access to their studios and usual wealth of creative resources and materials limited. This process forces us to look more at the world around us; reassess the everyday, invent and create with the little resources we have.

This is the ethos is embraced within Underwood's current practice which combines her use of Powertex (a fabric stiffener) and an eclectic mix of resources from around the home. Everything from old clothing, books, to tin foil can be found in these enchanting sculptures.
The artist says she is interested in
"attempting to recycle items from around the house and giving them new life rather than throwing them out"


[Joanne Underwood]



A practice that may be well honed in contemporary art across genre's, from the Readymade to organic/recycled materials of environmentally conscious contemporary artists, yet it has more resonance now - and we wonder how many more artists will continue to work in this manner within their 'new normal' practice?
Image 1:
March Hare
, Powetext and Mixedmedia, 35 x 17cm (NFS)
Image 2:
African Lady
Powetext and Mixedmedia, 47 x 18cm (NFS)
About the artist
Joanne is a visual artist with an architectural background, due to health challenges she's had to leave work behind but uses various art mediums to help distract from pain and as a creative outlet.
All images ©Copyright Joanne Underwood 2020
---
More Artists:
Office
Arts for Health Milton Keynes
Facilities Directorate
Milton Keynes Hospital
Standing Way
Eaglestone
Milton Keynes
MK6 5LD


Arts for Health Milton Keynes is the working name of MK Arts for Health charity number 1107625 company number 0513769