Current Temporary Exhibitions: A Female Focus: Behind the Lens
Abstracts

For some, Abstract Photography is an unusual angle on a real-life subject, take Dorothy Faulkner's photograph of Kimmeridge Shale (2 ) for example. While for others it provides an opportunity to experiment with a specific photographic or camera technique such as taking multiple photos while walking around the subject demonstrated by Christine Thomas' photograph of a Cyclamen (4) or the long exposure fireworks in Nicky Newlands' Night of Colour(7). We hope that you enjoy our images that display a range of abstract styles.



︎Please select an artwork to enlarge: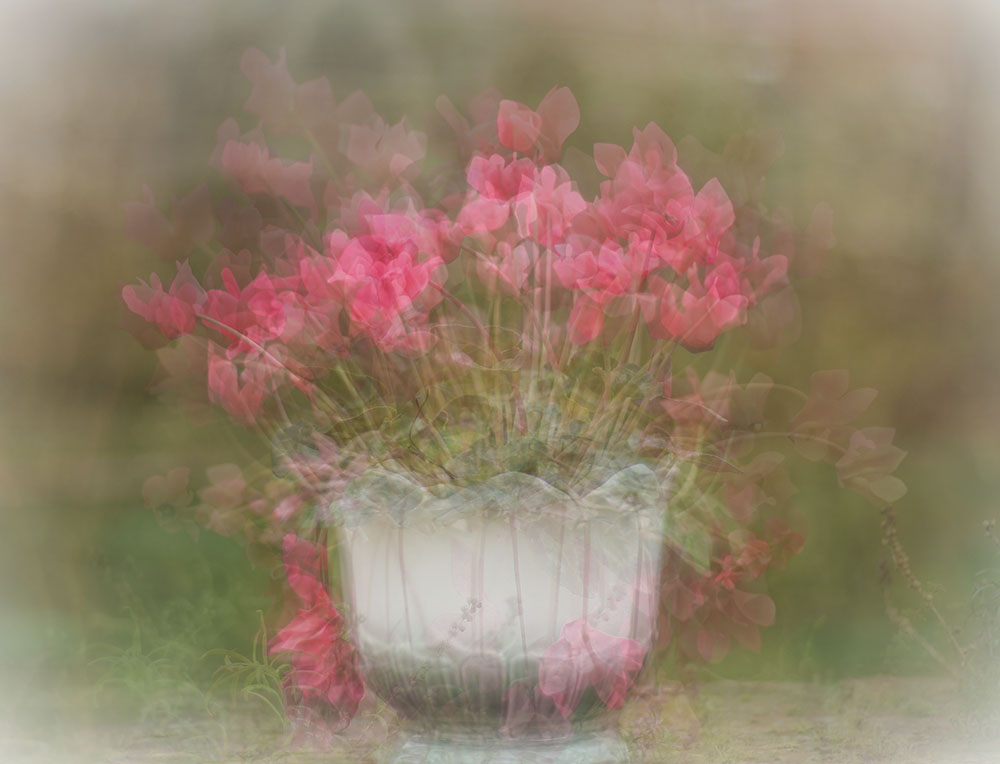 Artworks Top Left To Right:
Carole Brown; Glowball (2019) MK Shopping Centre Christmas decorations. Edited in Lightroom with Topaz glow filter, litebright II DMC-TZ100 ISO640 f8 1/800.

Dorothy Faulkner; Kimmeridge Shale (2018) This image is a closeup shot of the striations and colours evident in a band of oil shale at Kimmeridge Bay, Dorset. Here, I liked the contrast between the shale and the coral-like form of the seaweed. Processed in Photoshop. Nikon D90, 18 -105 mm lens, f/36, 0.4 sec, ISO 200.


Jean Rowton; On the Road (2019) An unusual perspective of a car's wheel, NIKON D5600 1/100 sec. f/5.6 63mm, ISO500.

Christine Thomas; Cyclamen (2018) A pot of cyclamen photographed using the Pep Ventosa technique; taken with a Canon EOS 700D and 50mm lens; multiple shots at different exposures combined in Photoshop.
Nicky Newlands; Contrasting Icebergs (2017) Antarctica Icebergs, cropped square, high contrast, Canon 500D 1/250 sec. f/10 135 mm, ISO 100.
Liz Whitelegg; Remembering a lava lamp (2020) In a darkened room I floated some olive oil on water in a glass bowl and lit the bowl from underneath with coloured light. Canon 700D 1/125 sec. f/2.8 100 mm, ISO 200.
Nicky Newlands; Night of Colour (2019)

Fireworks Canon 500D2 sec. f/22 100 mm, ISO800 using a tripod.

Dorothy Faulkner; Ice Forms Triptych (2021) These three images were taken on a Nikon D5500 and 18-105mm lens at f/10, 1/160, ISO 1100. The images have been arranged and processed in Photoshop from various shots of the patterns made in frozen ice pools in February.
     

All Images Courtesy of the Artists ©MK_Photography_Divas 2021

---
︎ Sales Enquiries:
Unframed high quality prints of the artworks in this exhibition are available, prices on application.
Email:
exhibitions@artsforhealthmk.org.uk
Tel:
01908 996125
25% from print sales goes directly to Arts for Health Milton Keynes. This helps to fund exhibitions of emerging and established artists at Milton Keynes University Hospital and look after their collection of over 400 artworks. It also helps fund health and wellbeing focused arts projects around the hospital and in the local community.
---
︎︎︎
Nature
---
A Female Focus: Behind the LensExhibition Image Menu ︎︎︎
Office
Arts for Health Milton Keynes
Facilities Directorate
Milton Keynes Hospital
Standing Way
Eaglestone
Milton Keynes
MK6 5LD


Arts for Health Milton Keynes is the working name of MK Arts for Health charity number 1107625 company number 0513769