Current Temporary Exhibitions: A Female Focus: Behind the Lens
Nature

These nature photos capture a range of flora and fauna using a variety of photographic skills and equipment, such as macro lenses for the flower and dragonfly, long lenses and fast shutter speeds for the birds in flight.
︎Please select an artwork to enlarge: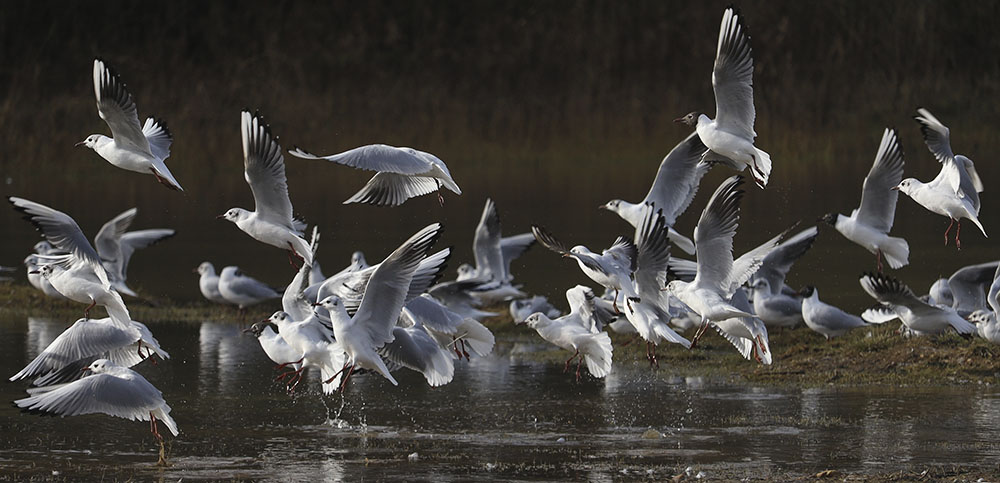 Artworks Top Left To Right
Ann Jones; Kingfisher on branch (2019)Taken at Horn Mill Trout Farm Rutland, from hide. No post processing.The trout farm has a lake that Osprey and other wildlife use. The kingfisher perched on a branch fairly close to the hide. Canon EF100-Iso 2000, 400mm f/5.6, 1/250s.

Liz Whitelegg; Alpine flower (2019) This alpine flower measures less than1cm in diameter and was taken with a 100mm macro lens. Canon EOS 400D 1/80 sec. f/4.5 100 mm, ISO 100.
Nicky Newlands; Birds in Flight (February 2021) Flooded Ouse Valley Park. Canon EOS R 1/1600 sec. f/5.6 250 mm ISO 250 Cropped
Samantha Jeffs; Silver Swan ( 2016) Swan Disappearing into the Darkness on Lodge Lake, Milton Keynes. Taken on an iPhone and processed with Prisma to give a stark, mostly monocolour, graphic treatment to the image. This is to emphasise the pattern of the water and its interaction with the shape and highlight of the swan, which appears almost as a cut out shape, despite being an integral part of the image.
Ann Jones; Sandwich tern bringing sand eels to young (2018) Taken at Brownsea island in June 2018. Photo taken at the tern colony where this one is bringing food for the chicks. Canon EOS -700D. ISO 200, 300mm, F5.6, 1/2000.
Christine Thomas; Damselfly (2018) Damselfly taken in the Stonepit Field, Milton Keynes with a Canon EOS 700D and 105mm macro lens; exposure 1/200 at f/7.1 ISO 640 focal length 105mm. Edited in Lightroom and vignette added.
Carole Brown; Snakeshead Fritillary (2021) Garden in Newton Blossomville. Coolpix B700 ISO140 f8 1/250 Edited in Lightroom and using oil painting filter from Topaz.
Ann Jones: Kestrel with Lunch (2019) I was taking a late morning walk on our local common in the days after Christmas and noticed the female kestrel landing on the post with her lunch, a vole. I set about taking as many photos as I could without disturbing her, but she was pretty focused on her lunch. The day was overcast and hence on fast setting the photo is grainy. Canon EOS 700D ISO 1600, 400mm, f5.6, 1/3200s.


All Images Courtesy of the Artists ©MK_Photography_Divas 2021
---
︎ Sales Enquiries:
Unframed high quality prints of the artworks in this exhibition are available, prices on application.
Email:
exhibitions@artsforhealthmk.org.uk
Tel:
01908 996124
25% from print sales goes directly to Arts for Health Milton Keynes. This helps to fund exhibitions of emerging and established artists at Milton Keynes University Hospital and look after their collection of over 400 artworks. It also helps fund health and wellbeing focused arts projects around the hospital and in the local community.
︎︎︎ Landscape & Seascapes
---
A Female Focus: Behind the LensExhibition Image Menu ︎︎︎
Office
Arts for Health Milton Keynes
Facilities Directorate
Milton Keynes Hospital
Standing Way
Eaglestone
Milton Keynes
MK6 5LD


Arts for Health Milton Keynes is the working name of MK Arts for Health charity number 1107625 company number 0513769